Relaxed Fit Suede Biker Ankle Boots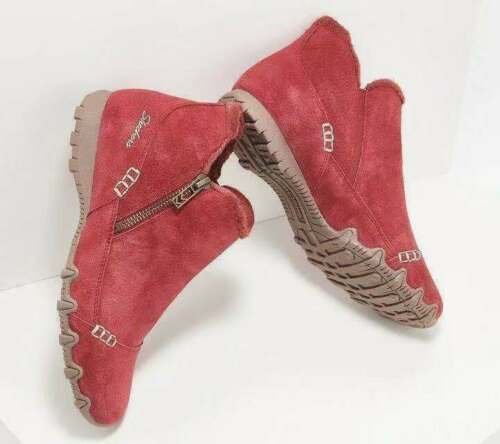 Relaxed Fit Suede Biker Ankle Boots
Your closet has a request: Keep the cozy loungewear coming, but can we get some boots to go with?

Yes, closet, you can.


Skechers relaxed-fit Earthy Chic ankle boots are the casual, sumptuously lined style designed to take those totally cute joggers and tunics from the sleepy confines of the couch and out to the farmers market, the dog park, the fire pit -- or just the grocery store -- and still make you feel all warm and fuzzy on the inside.


Outdoorsy types (and aspiring outdoorsy types), there's more to explore with the iconic Skechers Biker bottom. It brings the flexibility and traction fit for a spontaneous nature walk or tossing a football. From Skechers.
Style: Earthy Chic
Suede upper, functional side zipper, stitching and overlay accents
Faux-fur collar lining, Air Cooled Memory Foam insole, textured outsole
Bottom construction: Biker
Approximate measurements: Heel 1"H; Shaft 2"H; Ankle circumference 12-1/2"
Measurements were taken using a Medium size 9; measurements may vary depending on size
Fit: true to size
Leather/textile/man-made upper; man-made lining

Design elements: knotted
Function: anti-slip
Closure type: lace
Tube height: short calf
Sold out material: rubber
Women's upper material: leather