Women Low Cut Waterproof Winter Soft Snow Boot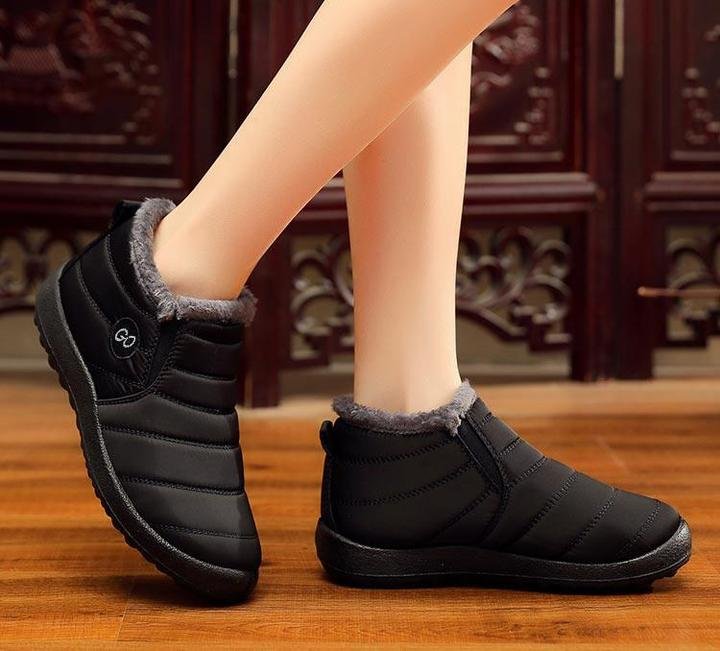 Women Low Cut Waterproof Winter Soft Snow Boot
Fashion snow boot with warm fur lining design, not only can keep your feet warm in freezing winter, but also without losing fashion.
Introducing our newest and stylish addition to our SHOE COLLECTIONS - Women Low Cut Waterproof Winter Soft Snow Boot!
The vamp of these Women Low Cut Waterproof Winter Soft Snow Boot was made of quality waterproof oxford cloth, feel soft, waterproof, warm, comfortable. Ensure all-day dry comfort by blocking rain, snow, or any other liquid from invading and are easy to clean with a cloth.
Our Women Low Cut Waterproof Winter Soft Snow Boot lining use the fine artificial short plush, completely wrapped your feet, so that your feet in the winter no longer feel cold, and high-quality artificial plush is not easy to fall off and warmer. Our rubber soles are ultra-wear resistant, non-slip, resilient, shockproof; comfortable for long wear, and walking. The soles of the special lines have a strong grip, superior anti-skid performance, greatly enhance safety.
The Women Low Cut Waterproof Winter Soft Snow Boot with a high-quality elastic band, it's more convenient to wear and off, elastic elasticity, repeated pull is not deformed. And our insoles are made of warm short plush, you will feel the warm every time. These winter boots both for women is perfect for snowy days, rainy days, skiing, walking, fishing, walking dogs, and other outdoor sports and also suitable for jeans and slacks.
FEATURES:
[Easy Zipper Closure]
Fashion side zipper design is for ankle wide or thin to adjust the proper width to put on, making the ankle booties stylish as well as easy to wear. Especially when you are in a hurry, it can help you save time.
[Keep Warm]
High-quality wool covers the inside of the winter boots that make sure enough temperature to take care of your feet and offer a cozy and toasty experience on your feet.
[Breathable fabric]
- The uppers of the snow boots are made of breathable faux suede material so that it will keep your feet dry, breathable, and comfortable in cold Winter.
[Durable & Non-Slip]
- The snow booties are meticulously selected high-grade Rubber as the sole which features excellent abrasion resistance, skid resistance, and deformation resistance, and flexible, perfect for outdoor activities. The heavily lugged sole ensures each step outside is secure and falter-free in extreme conditions.
[Outdoor Activities] The flat outsole(3 cm) design makes it comfortable to wear a long time for any outdoor activities. And the height 3 cm will also properly prevent your feet from getting wet in cold and wet winter weather.
SIZING GUIDE: