5 in 1 Take Apart Dinosaur Toys for Kids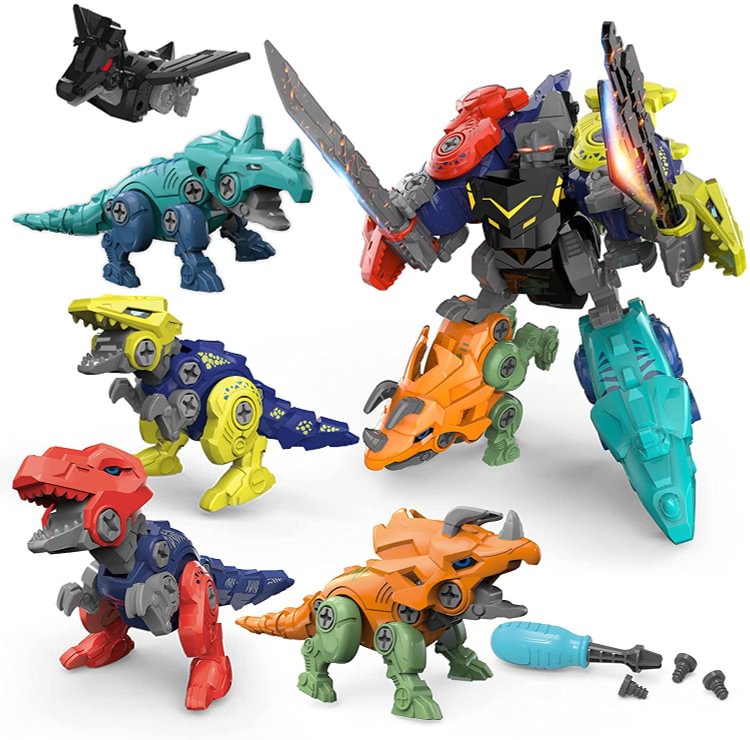 5 in 1 Take Apart Dinosaur Toys for Kids
Take apart dinosaur toys
Best Educational Toddler Toys to Help Children Develop Their Brains and Inspire Their Imagination All researchers believe that learning via play is essential for a child's healthy growth.
It provides your children with both learning and play opportunities.
Explore the dinosaur world with your friends and have hours of fun.
FEATURES
[5 Pake Dinosaur Toy] Tyrannosaurus Rex, Unicorn Dragon, Velociraptor, Triceratops, and Pterosaurs are among the five types of dinosaurs available for children. Best construction toys for 3-4, 5-6, and 7-year-old boys and girls.
[Specially Designed 5 IN 1] Kids can properly assemble five separate dinosaurs into one large dino warrior with weapons. Meanwhile, children may freely mix and combine dinosaur toys with more combination kinds, which expands children's creative, creativity, and invention abilities while also increasing parent-child contact time.
[Excellent Dinosaur Toys] Disassemble The dinosaurs are constructed of non-toxic, long-lasting ABS plastic. Smooth edge, no electric drill, no hand damage to minors during assembly / With five toy screwdrivers and replacement screws, it's tough and resistant to dropping.
[Easy To Put Together] Detailed instructions for the Stem Toys Set It is simple for youngsters to understand and improves their hand-brain integration capacity. Forty minutes of toy time gives children joyful time. Multiplayer play and parent-child interaction are also possible.
[Gift for Boys and Girls Ages 3-8] Different dinosaur toys provide more benefits, more combinations, and a healthier and safer design. Dmsbuy's disassembled dinosaur is an ideal present for Christmas, Children's Day, birthdays, Thanksgiving Day, and Easter. Best Gift for Boys, Girls, and Toddlers Aged 3 to 8 Years
Size:
PACKAGE INCLUSION
1 X 5 in 1 Dinosaur Toys