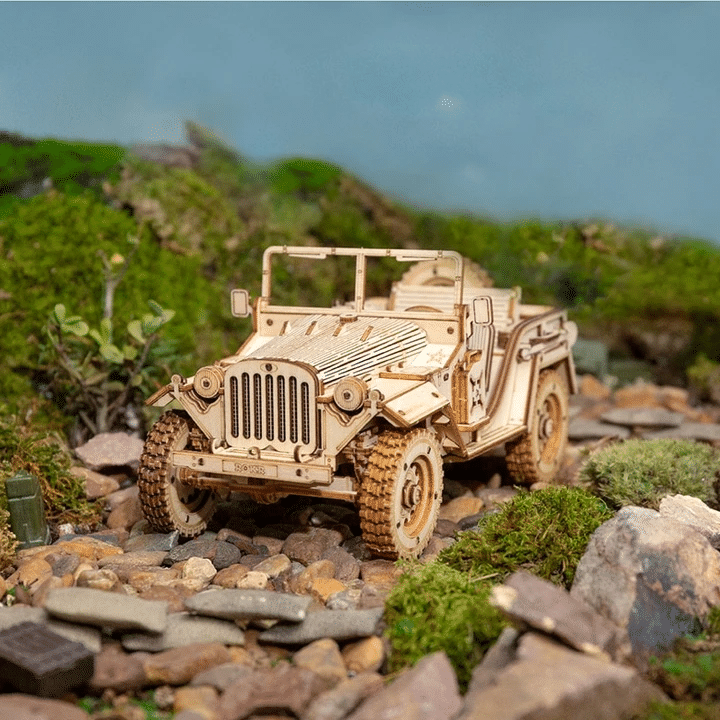 This 1:18 scale army jeep is a must-build for any car model lover.
The army jeep started as an essential road vehicle of World War II and is now one of America's most beloved cars. Light, rugged and off-road, the jeep was designed to move troops and help the wounded.
The Scale Model Vehicle Series is inspired by the evolution of road vehicles over the decades and centuries. We've replicated many iconic vehicles into mini-scale models with detailed characteristics.
Note: Scale Model Vehicles are motionless models.
369 PCS | PUZZLE LEVEL: ⭐⭐⭐⭐
WHY YOU'LL LOVE
WOODIY PUZZLES
🧩 IT'S THE ULTIMATE WOODEN PUZZLE KIT!
You don't need any glue or special tools. We keep our kits simple and intuitive, so you can start assembling straight out of the box and enjoy hours of educational fun.
🧩 IT'S A STIMULATING AND REWARDING EXPERIENCE!
With a little patience, anyone can assemble Woodiy Puzzles. Just follow the English instructions, pop out the pieces and press them together. It's so satisfying putting something together on your own!
🧩 IT HELPS YOUR KIDS DEVELOP ESSENTIAL SKILLS!
By exercising the brain and utilizing the hands, your child will develop useful problem-solving skills while learning basic engineering skills.
🧩 IT'S THE PERFECT GIFT FOR ANY OCCASION!
Know someone that loves wooden crafts or puzzles? Woodiy Puzzles are the perfect gift for birthdays, Father's Day, Christmas, etc.
WHAT'S INCLUDED?
Five laser-cut plywood sheets
English assembly instructions
Sandpaper and wax