Car Winter Tire Wheels Snow Chains Anti-skid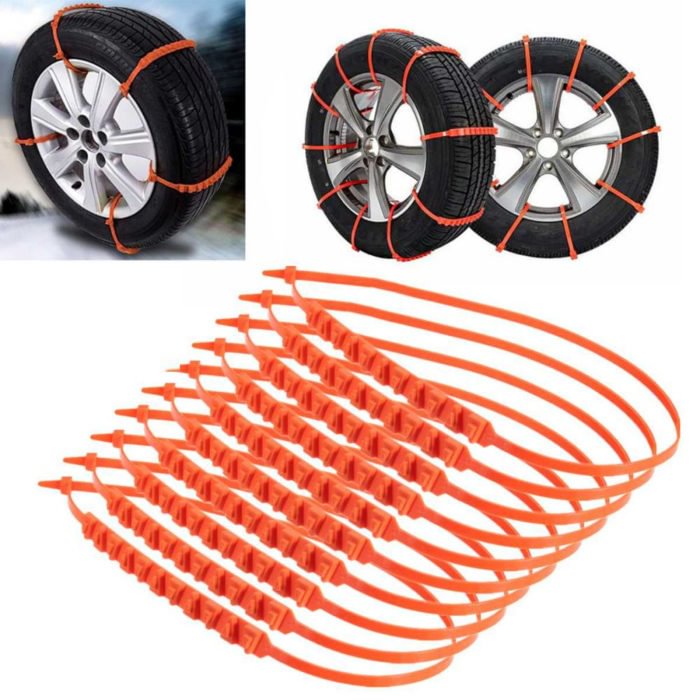 Car Winter Tire Wheels Snow Chains Anti-skid
UNIVERSAL TYRE CHAINS for ALL SEASON
Anti-Skid Emergency Snow Tire Chains with Special Design it can be applied to all the models of the tire width It can be applied to all the models of the tire width 7.3"-11.7"(185mm-295mm) / 6.49"-8.9"(165mm-225mm) for Car, SUV, and Truck. Best for ice road, snow road and mud road.
2021 UPGARTED VERSION SNOW CHAIN
Humanized design of alloy steel, good performance of antiskid & thicken pure TPU & steel studs material, no harm to your tire. special fastener, real materials, with strong anti-wear Engineering. it fits securely over your tires, and provides the perfect amount of traction and grip on slippery surfaces.

SAVE YOUR TIME TO INSTALL
Snow Tire Chains can be installed in accordance with anti-slip requirement, Snow Mud Tire Chains with adjustable Tension Straps which makes mounting your unit to the tire a breeze adjustable. no need to take down tires, no need to move the vehicle, fast installation and removal in minutes. safe to use and affordable.

ESSENTIAL for You
Winter is approaching, for the safety. you need this Double Fastener, Thickened TPU Anti-slip Chain to Insure a comfortable drive with less vibration and noise. Please Note: This Auto Anti-slip Chain Cable is not suitable for braking and sharp turns, iron wheels can not install this Emergency Tyre Cable Chain.



Features:
Anti slip design, very durable for use.
Easy to install and remove.
Ensures your safety.
Suitable for most car tires.
Firm installation, safe to use.
Resistant to low temperature, long service life.

Descriptions:
Light weight will not damage tires.
Good antiskid effect for snow, mud and mountain climbing.

Specifications:
Material: plastic
Color: orange
Size:9*900mm