Cordless Hand Therapy Massager With Compression Relief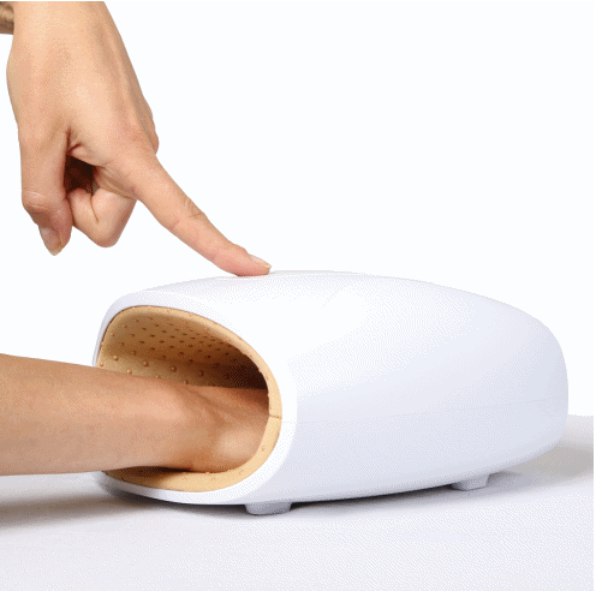 Cordless Hand Therapy Massager With Compression Relief
Bring a rejuvenating touch to your hands,and keep them looking fresh, youthful, and pain-free. Whether you suffer from carpal tunnel syndrome, arthritic fingers, swelling or just plain hand fatigue, this hand and finger massager can make the discomfort disappear in just one session.
It's a clever hand massager that uses rhythmic air pulses and moderate infrared heat to offer you the best hand massage possible, from wrist to fingertips.
This hand therapy massager is a fantastic idea that can help relieve pain, boost hand strength, and lower tension and anxiety levels:
✓ Relieve hand discomfort and weariness in minutes.
✓ Finger-to-wrist hand massager (6 modes with 3 intensities).
✓ Improve circulation and speed up recovery
✓  use it anywhere.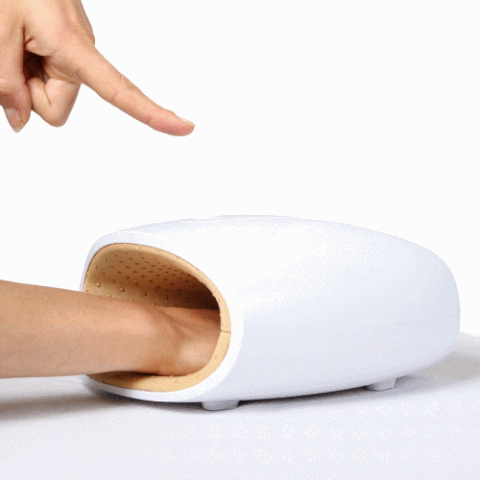 Relief in minutes with hand therapy massage
In minutes ,
you'll have stronger hands!
You'll feel the rhythmic air pressure kneadung every inch of your hand as a type of gentle massage as soon as you put your hand in the massage chamber, boosting blood flow, oxygen levels, and nutrients in your hands.
This is ideal for relieving and recovering from finger arthritis, tendonitis, carpal tunnel syndrome, and other conditions. You're only one session away from being able to do what you love without pain and with ease!
With ZERO Effort, Eliminate Pain & Stress
All of the tension you accumulate throughout the day is held in your fingers.
This acupressure hand massager begins by softly massaging your hand with a series of soothing pulses to relieve stress and tension
.
TAKE COMFORT TO NEW HEIGHT
Anti-aging Treatment:
Your skin and muscles need good blood circulation to regenerate and stay fresh.This hand massager's heat therapy does just that.It also allows your applied creams and moisturizers to be absorbed faster and more effectively,so you can reap the full benefits of your skincare routines.
Natural Detoxification:
As the hand and finger massager begins to knead the stress out of your little muscles in your hand, it also cleanses your tissues, allowing them to heal faster in the event of an injury and relieving some of the strain on your immune system.
Travel Friendly
As experts recommend getting a hand massage 1-2 times a day,this hand therapy massager is brilliantly designed with that in mind.its shape is compact and portable.Ideal for office breaks and massages on the go.
The Perfect Gift!
The Smart Hand Massager is an excellent choice for a one-of-a-kind gift that has a beneficial influence on daily life.
Try Therapeutic Technology in the Comfort of Your Own Home!
✓ This device is both recommended and used by doctors and professionals to significantly reduce and minimise symptoms of arthritis, joint pain, inflammation and carpel tunnel syndrome, etc...
✓ The difference is that treatment in an office or clinic costs between $400 and $2500 each month.
✓ Our cost-effective technology will save you money while providing the same healing benefits as an in-office treatment.
✓ For at-home pain relief, this hand massager has been proven to be quite efficient.
How Does It Work:
The Hand Therapy Massager targets the pressure points in your hand with its built-in air compression and nodes soothing your entire hand and fingers. (3 Levels of intensity)
Three intensity levels and two heating levels help increase your blood and oxygen circulation to relieve numb, stiff, and cold hands.
The Hand Therapy Massager also features 2 hand-size modes. This allows The Hand Therapy Massager to adjust to your hand for a more personalized message.
Spécifications:
Package Includes: