Cute Dinosaur Kids Hoodie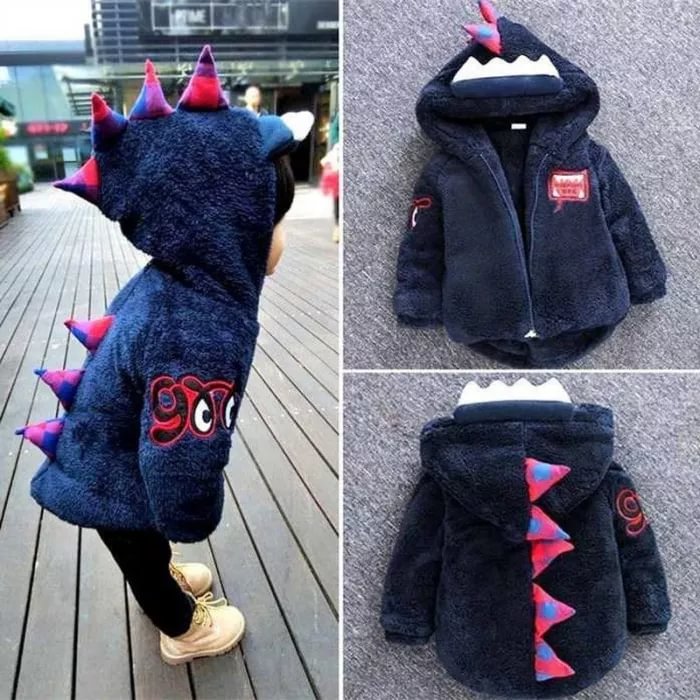 Cute Dinosaur Kids Hoodie
Cute jacket for my dinosaur-loving son! It is adorable and comfortable. It has thick clothing, which is excellent for cold seasons such as winter, spring, and autumn. It is also easy for him to have a stuffie and sweatshirt in the car for our road trip. It fits as expected and it's a great price! 
- Grace C. ✅ VERIFIED BUYER
Keep Your Little Dino Fan Cosy On Cooler Days With This Cute & Lightweight Hoodie.
Friendly to skin

, made of cozy, soft and breathable material.

Adorable spikes

 on the hood and down the back.

Perfect

 for spring, autumn and mild winter weather.

Packable, soft and ultra-lightweight, can be folded into a small volume, easy to store and carry when your 

kids go for a picnic

 or go hiking.

Perfect

 for daily wear, holiday, party, outdoor play, picnic and photo shoot, etc. 
You and your kids will surely love this Cute Dinosaur Kids Hoodie, especially during winter! It comes with a hood, so you do not have to worry about a little rain or snow outdoors. Plus, its zipper allows for a more secure wearing of the jacket! Even if your child plays too excitedly, the jacket will not easily be worn off.
This will not only keep them away from the snow, but its cute animal-designed coat will also keep them in the latest fashion! This jacket is a perfect fit for kids aged one to six years old.
Plus, clothing little kids for the cold is a form of art and fashion. The Cute Dinosaur Kids Hoodie is ideal for any setting, whether they're taking a stroll to the park or going shopping with you. Hence, the Cute Dinosaur Kids Hoodie is surely going to be the best purchase for your child this coming winter season!
KEY BENEFITS:
✔️ Thick Clothing
The clothing material is made up of a combination of nylon and cotton, making the jacket highly suitable for cold seasons such as winter, spring, and autumn.
✔️ Easy to Wear
The insides of the sleeves are not too tight, making it easy to wear, especially for kids who do not like or who easily get irritated when wearing extra thick clothes.
✔️ High Fashion Sense
The Casual Winter Jacket has a dragon-like design, not only on the sleeves but also on the hood! The 3D dragon scales that run from the hood up to the back make the jacket look cooler than any other jacket for kids.
✔️ Animal Design
The cute little bear ears or dragon scales may attract your child's liking and make it easier for you to make them wear the jacket. 
✔️ Full-Length Jacket
You don't have to worry about the cloth fitting to your child because its sleeves and body length are sized according to an average size of a child.
SPECIFICATIONS:
Material: 

Cotton

Collar:

 Hooded

Age and Gender:

 For children (1-6 years old), Boys and Girls

For season:

 Winter, Spring & Autumn
PRODUCT INCLUDES:
1 X Cute Dinosaur Kids Hoodie