Heavy Duty steel Firewood Storage Rack for Outdoor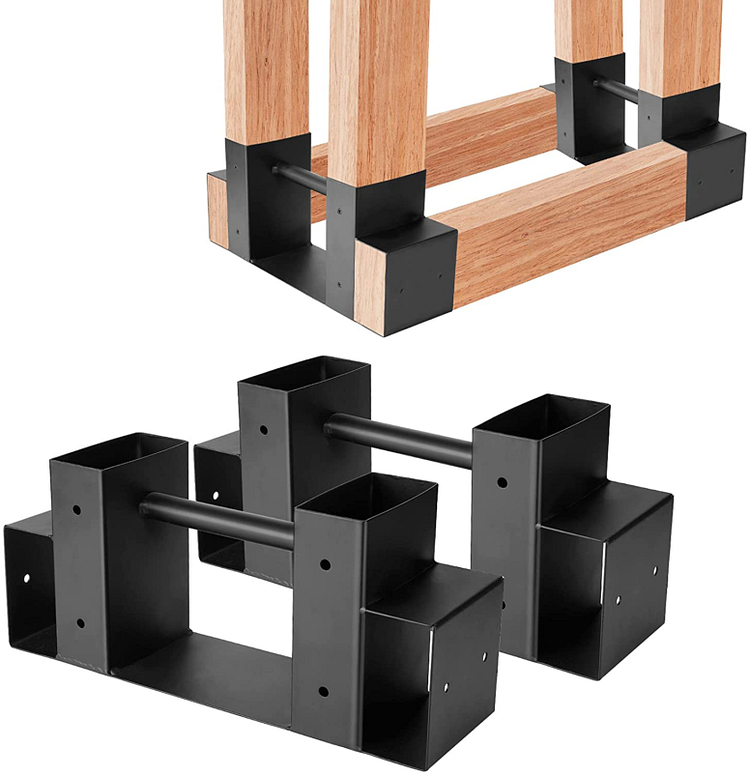 Heavy Duty steel Firewood Storage Rack for Outdoor
Heavy Duty steel Firewood Storage Rack for Outdoor, Black Metal Coated Firewood Log Holder for Indoor Fireplace, Firewood Bracket Kit (Set of 2 Packs) with 25 Screws, Suitable for Different Lengths Firewood.
Product Features
【Heavy-duty material】This bracket kit made from nice quality, heat-resistant, durable steel material, it can maintain its brand-new appearance whether it's windy or rainy.Surface consists of black thick metal coated finish, can effectively anti-corrosive. There are two drain holes at the bottom to prevents the firewood rack from accumulating water to cause your wood to rot.

【Easy to assemble】Depending on the materials provided and the firewood (2 x 4 inches) you purchase, you can assemble it into a sturdy firewood rack in a short time and make it any length to suit where you're putting it, the flexibility to vary the firewood rack size which the prebuilt frame can't do.

【Provide a storage for firewood】This is really a very useful household product,it doesn't take up much space, but it has a large capacity to hold a decent amount of wood. It can be used in any outdoor and indoor environment that is not easy to bend or break, you can put spacers underneath it for air circulation it will help keep firewood dry and neat.

【Many uses】Our firewood rack is easy to move into any location, you can adjust to what size fits your space, widely used in a variety of indoor and outdoor occasions, such as, your porch, outdoor patio, indoor fireplace, also a great addition to camping tools.
Product includes
2 firewood racks (13.7 x 3.9 x 5.9 inches),
25 screws and comes with extra rubber strips,
which fit wood perfectly into the firewood holder.
Bracket slot are suitable for 2 x 4 Inches wood (wood is not included in the order, you need to prepare by yourself) in cross-sectional area.