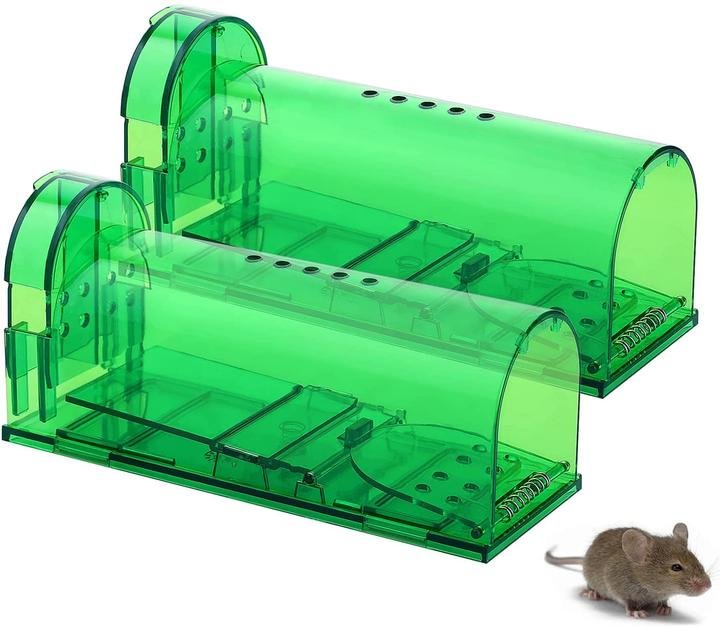 HUMANE
Grab & release the mouse causing no pain or harm. It is suitable for people who don't wish to harm whatever kind of animal.
SMART DESIGN
We improve the product based on the original, used a more durable ABS material, and added a few air holes on the product to prevent rats from suffocating.
SAFE PROVEN MOUSE TRAP
Compared with traditional mouse traps, this humane mouse trap is very safe for children and pets without any risk.
EASY TO USE AND SET
With a simple bait compartment and a touch sensitive lever, these live mouse traps are simple to set up and effective to catch.
SIMPLE TO CLEAN & REUSE
The compartments of mouse traps are removable and easy to clean.
FEATURE:
🐀 MOUSE TRAPS - No harm done. Our humane mouse traps indoor cage adheres to the catch-and-release method which means the mouse won't be harmed in any way during the process. No cruelty involved!
🐀 MOUSE TRAP - Safe around kids & pets. Our mouse traps outdoor cage has no bar clamps that can be triggered accidentally and pinch fingers or toes. It doesn't require the use of hazardous chemicals as well.
🐀 MICE TRAPS FOR HOUSE - Stays closed. The heavy-duty spring in our mice and rats trap quickly shuts the door when triggered. The door will stay securely and tightly closed until you're ready to release the mouse or rat.
🐀 HUMANE MOUSE TRAP - Easy to use. Setting up our mousetraps no see cage takes only minutes. Simply put bait on the bait compartment and lock the door in place. Afterward, remove the rear panel to release the mouse.
🐀 MOUSE TRAPS INDOOR - Cost-effective solution. This humane mousetrap catch and release is reusable and can be cleaned easily. This saves you from spending on disposable traps, glue boards, or dangerous baits.
PACKAGE INCLUDE: 1 /2 *
Humane Mouse Trap