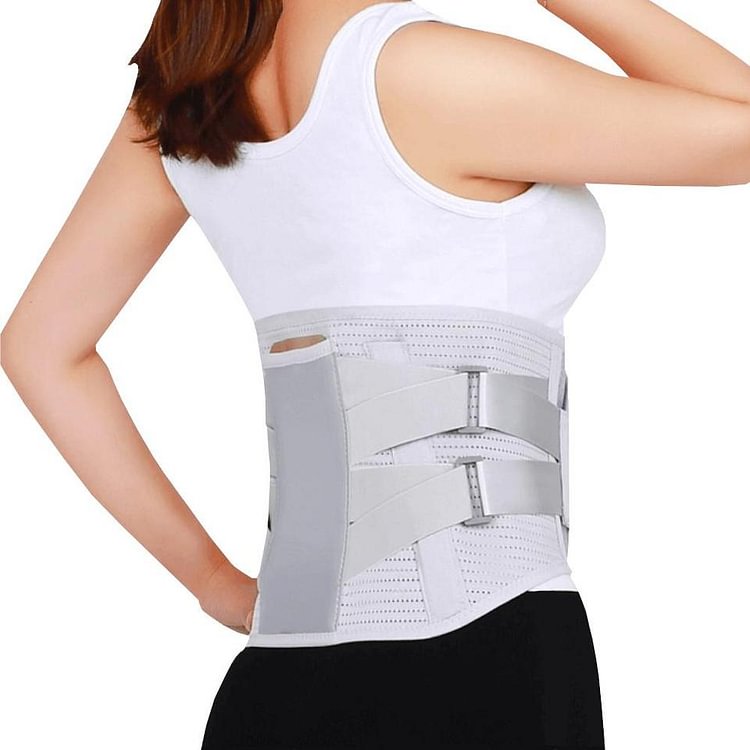 It relieves lower back pain and improves stability with specially contoured lumbosacral steel and flexible support plates. These plates are removable and can be slotted into a back pocket built into the belt.
Included are a 9 piece tourmaline pad that provides heat therapy to diffuse pain and improve blood circulation. LumbarMate™ is the start of the body's journey to a healthy, pain free spine.
WHAT IS IT USED FOR?
Lumbar Back Belt relieves lower back pain caused by
Bulging or herniated discs

Sciatica

Scoliosis

Strains and sprains

Osteoporosis

Piriformis syndrome

Loose ligaments

Degenerative Disc Disease

And many other conditions
CONTOURED LUMBOSACRAL SUPPORT
The Rigid Steel Support Plates and Double Side Splints are ergonomically contoured to follow the spine's curvature, adding stability to the lumbosacral region, and preventing twisting movements that may aggravate injury. Special double strap system pulls the plate forward for a strong and firm support, correcting your posture, and alleviating pain from pinched nerves.
IMPROVED BLOOD CIRCULATION THROUGH HEAT THERAPY
Lumbar Back Belt includes a removable 9 piece self-heating tourmaline pad that provides heat therapy to boost blood circulation, allowing nutrients and oxygen to travel to joints and muscles. This helps repair damaged muscles, relieves inflammation, and reduces back stiffness.
EASY EVERYDAY PROTECTION
Lumbar Back Belt keeps your back straight. It prevents excessive BLT (Bending, Lifting, Twisting) movements, protecting you from injury everyday.
PACKAGE INCLUSIONS
Lumbar Back Belt includes 2 sets of Lumbosacral Supports for protection. 3 replaceable pads are included, that are secured to the belt with Velcro. Choose any of them to suit your needs.
Lumbosacral Supports and Side Splints
Steel Support Plate and Double Steel Side Splints

Flexible ABS Support Plate and Double Side Splints (Free!)
Replaceable Pads
Self-Heating Pad - Contains 9 piece tourmaline for soothing heat therapy

Breathable Mesh with Pocket - Pad with pocket to insert an ice pack for cold therapy if needed

Warm Velvet Pad - Soft and comfortable, perfect for keeping warm in cold weather
WAIST MEASUREMENT AND SIZE GUIDE (IMPORTANT)
It is important to measure yourself accurately before purchasing
. Please use a measuring tape and measure your waist at the
widest part (See diagram)
, then refer to the sizing chart below. Remember to select the correct size before placing your order. Do not guess your waist size or use your pants size!
| | |
| --- | --- |
| LumbarMate Size | For Waist Size (inch/cm) |
| S | 27-31 inch / 68-79 cm |
| M | 30-34 inch / 76-86 cm |
| L | 35-36 inch / 89-92 cm |
| XL | 37-39 inch / 94-99 cm |
| 2XL | 38-41 inch / 97-104 cm |
| 3XL | 40-44 inch / 102-111 cm |
| 4XL | 44-47 inch / 112-120 cm |