Remote Control Dinosaur Toys for Kids 3-5 - T Rex Dinosaur Toys with 12 Dino Figures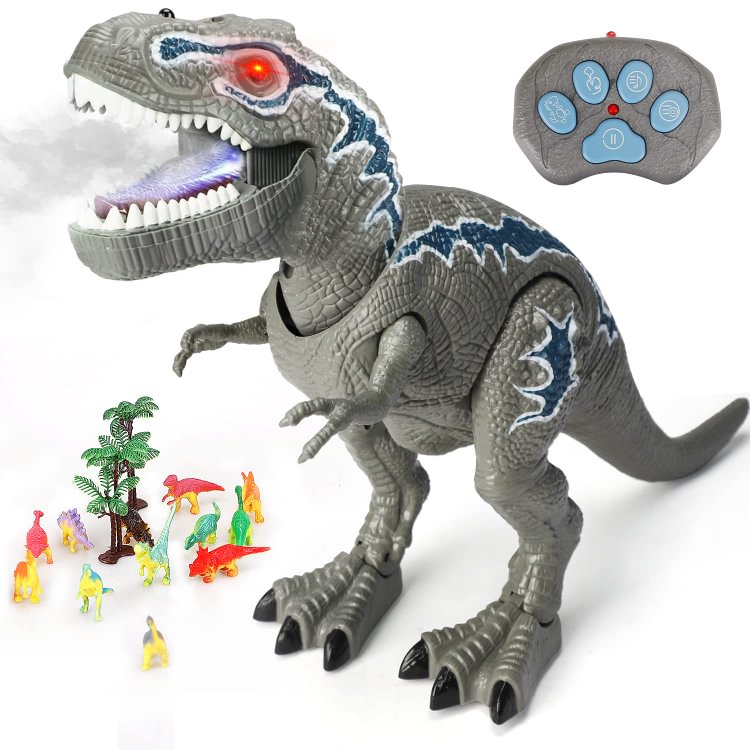 Remote Control Dinosaur Toys for Kids 3-5 - T Rex Dinosaur Toys with 12 Dino Figures
REALISTIC REMOTE DINOSAUR TOY DESIGN
This Light up dinosaur toys for kids 3-5 is equipped with LED light which will bring endless fun for your little ones and draw their attention for lessening the screen time. Moreover, the trex dinosaur toy can roar and walk which mimics the real dinosaur when pressing the remote control dinosaur controller. Let start our Jurassic adventure!
MULTIPLE COOL EFFECTS
On top of being able to walk, this dinosaur also has LED Light up eyes, the ability to spray mist through its mouth, and of course a loud, realistic roar. Your kids are bound to love watching this Dino come to life.
COMES WITH BONUS DINOSAURS
Even dinosaur kings get lonely. This T-Rex comes with 12 mini dinosaur figures and 2 plastic trees, allowing your child to build their very own prehistoric world to play with.
IDEAL GIFT FOR ANY OCCASION
These large dinosaur toys are the ideal Christmas Gifts for families looking for great value. The electronic walking dinosaur toy will provide your child with endless hours of entertainment, as well as many opportunities to bond between siblings, friends, and family.
STEAM LIFE 12 MONTH GUARANTEE
Buy with confidence. If anything happens to your toy dinosaur robot within the first 12 months of owning it, we will replace it at no charge to you. At STEAM Life customer satisfaction is our top priority. Just message us directly through the Amazon messaging system.